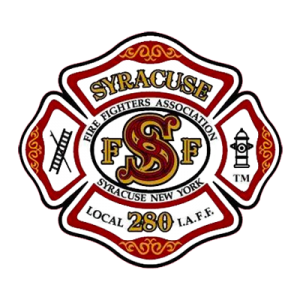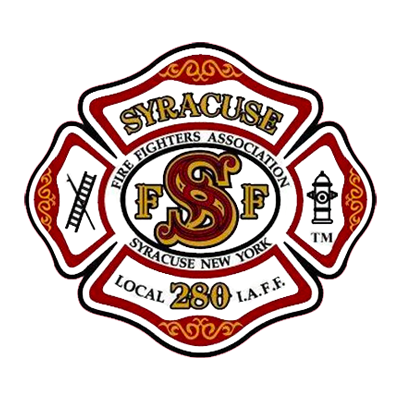 Established as a paid department in 1877 (consisting of four steamers, one hook & ladder, and one chemical wagon), the Syracuse Fire Department now operates 17 fire companies out of 11 fire stations, protecting a 25-square-mile area with a population of over 140,000 that grows significantly during daytime hours. The department provides fire protection and prevention services to four major hospitals, many downtown office buildings, Hancock International Airport, Interstates 81 and 690, as well as Syracuse University and the Carrier Dome.
The Syracuse Fire Fighters Association, Local 280 of the International Association of Fire Fighters, formed on March 12, 1928 to represent the uniformed members of the fire department. When the Taylor Law passed in 1967, Local 280 became the recognized employee organization for uniformed firefighters, fire officers, and district chief officers, and in 1993 Local 280 became the recognized employee organization for the Deputy Chiefs of Fire bargaining unit.  Local 280 negotiates collectively with the City of Syracuse in the determination of the terms and conditions of employment, and the administration of grievances arising thereunder for each of the bargaining units represented.
Currently, the members of the Syracuse Fire Fighters Association fill the ranks of the Syracuse Fire Department and provide fire suppression & rescue, EMS, HAZ-MAT response, High-angle rescue, Confined Space Rescue, Airport Rescue Fire Fighting (ARFF), and full fire prevention, inspection, and education services to the citizens of Syracuse and its visitors. Current staffing is 393 uniformed members, operating 9 Engine Companies, 5 Truck Company, 1 Heavy Rescue Company, 1 Squad Company, and an Airport Rescue Fire Fighting (ARFF) Company. Additionally, our members fill the ranks of the Fire Prevention Bureau, Fire Investigation Unit, Training Division, EMS Division, Communications Division, and supervisory positions in the Maintenance Division.
The Syracuse Fire Department answers over 21,000 alarms annually, of which over 1,000 are fires.